Christmas ShowJumping Show , 30th December 2018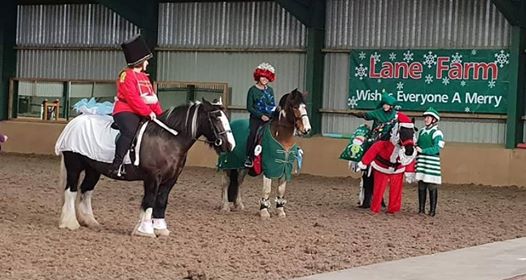 WOO!! What a day, Thank you to the 54 competitors who jumped over 100 rounds and those who took their time to decorate their ponies. Even the burger van had to call in some emergency buns, and at one point we were running out of space to park you guys. A special thank you going to those who today wouldn't have been possible, the commitee really do appreciate the time you have spared today to make these events happen.
Club clothing : supplied by Cloud 9 Leisure Embroidery/Print Specialists.
Unit 59D South Nelson Industrial Estate,
South Nelson Road, Cramlington. NE23 1WF.
Tel/Fax: 01670 739370 Mobile: 0787 6026202
email: embroidery@cloud9leisure.com
website : http://www.cloud9leisure.com/
(links to their catalogue on the bottom of the home page)
Orders can go direct to Cloud 9 - they are extremely friendly and have a good selection of items in the store
You can order Fleeces/Gilet/Polo Shirts/Jackets etc in Black with gold club logo
Cloud 9 also embroider your own Saddle cloths/travel rugs/clothing etc
Any queries just ask

__________________________________
Any member with any news, photos, achievements etc they would like us to share with everyone please send us details we will put it on this page
---